If you'd like to help us promote Shimmer, would you place a copy of this text on your blog or website?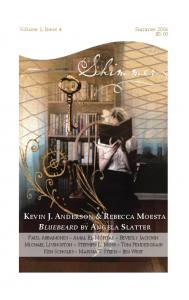 The Summer 2006 issue of Shimmer: Available August 1.

Heat makes the air shimmer. It's too damn hot to write marketing text. Buy a copy of the Summer 2006 Shimmer. Read it.

Why? 8 new stories, art, and an interview with writing team Kevin J. Anderson and Rebecca Moesta.

Angela Slatter, Tom Pendergrass, Paul Abbamondi, and Marina T. Stern return with stories of books, bureaucracy, blood, and heartbreak. Amal El-Mohtar and Stephen Moss make their fiction debuts. Beverly Jackson tells a fish tale, and Michael Livingston talks about gnomes. (Check out our Featured Author page to hear Michael read the story.)

Bonus: after reading, the print version works as a fan! Our pdf readers are on their own.
So buy the magazine below. Better yet, subscribe.
We also have this lovely banner ad for those of you who want to help with our grassroots marketing. Many thanks for your support.